Robotic Research LLC, a leading provider of autonomy and robotic technologies to commercial and federal customers, will be debuting a new football-size transformable drone, the Pegasus Mini, at CES 2020. The Mini is a smaller version of the original Pegasus, introduced in August, which established a new category of transformable unmanned autonomous vehicles (hybrid unmanned aircraft system/unmanned ground vehicle) that both drive on land and fly. This patented combination of features provides a new range of capabilities to support commercial industry, first responders, law enforcement and military customers that previously had not been possible with autonomous drones or land vehicles.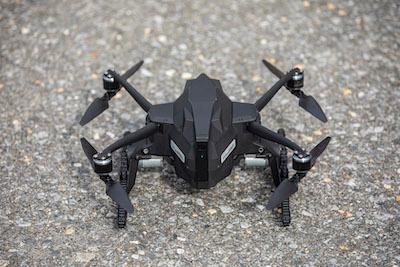 "We are excited to be at CES to showcase Pegasus as a new line of transformable robots and debut the Pegasus Mini, which offers a super-compact yet powerful drone and land vehicle combination capable of bringing remote cameras and sensors into previously unreachable locations," said Alberto Lacaze, president of Robotic Research. "This small but mighty system has immense versatility and reach like no other robotic vehicle, flying at very high speeds with a payload capacity that can carry important tools to reach critical locations in unpredictable environments. We look forward to leveraging these unique features of the Pegasus Mini to provide more flexible, easily deployable, autonomous systems for customers in both the commercial and federal markets."
The Pegasus hybrid UAS/UGV configuration delivers advanced GPS-denied mapping with fully autonomous high-speed flying and driving capabilities. Pegasus Mini is designed to provide the extra reach that a UAV or UGV alone cannot provide. Uses include inspection, rescue, rapid response, and applications that strongly benefit organizations in oil and gas, public transportation, law enforcement, public safety, and more.
The features of the Pegasus Mini include:
Capability of autonomous operations in the air and on the ground.
Compact and similar in size to a football — approximately 16 inches by 8 inches.
Weight of 4.2 pounds.
Payload of up to 2 pounds.
Up to 30 minutes of operation in flight mode.
Up to two hours of operation in drive mode.
Read the full article on Aero News Network
The U.S. Department of Defense and Robotic Research LLC, announced an agreement worth about $16.5 million for personal tracker device attached to a soldier's boot.
Through this deal the company is offering its warfighter localization sensor units tech, called WarLoc, to help better equip four deployed U.S. Army Brigade Combat Teams in different locations, a press release states. The first batch of WarLoc units have already been shipped to an Army team.
"We are deeply honored at having been chosen to supply the U.S. Army with our innovative WarLoc sensor units," said Alberto Lacaze, president of Robotic Research. "WarLoc's small-form factor and state-of-the-art capability to provide highly accurate localization and positional information in GPS-denied environments make this device a perfect fit for America's forces tasked with defending our freedoms on the front lines."
WarLoc provides superior localization and positioning data for teams of warfighters or first responders in GPS-denied environments, including underground facilities and inside buildings and mega-cities. The small WarLoc sensor mounts on footwear. Multiple systems work together to further enhance accuracy and maintain the localization of teams. The system is not only unique for its accuracy but also for its distributed nature that works well with challenging communication environments.
The algorithms are robust to communications failures and dropouts.
There are two variants of of the sensor — one mounted to the top of the foot (attached via the user's shoelaces) and one mounted to the back of the heel (attached via straps).
See the full article on Defense Blog
Robotic Research LLC introduced anew multi-domain vehicle Tuesday that is capable of doing mapping or searching out chemical weapons from either the air or the ground.
The Pegasus uses four rotors to fly or thin rails with tracks similar to those on tanks to move along the ground. Ground operations offer longer missions of up to 4 hours while flight-only missions can be as long as 20 minutes. The payload capacity for the Pegasus is 2 pounds and the company is offering payloads for ISR (intelligence, surveillance and reconnaissance) and the detection of CBRNE (chemical, biological, radiological, nuclear, and explosive) materials, according to a statement.
"It's a whole new category of robots," said Alberto Lacaze, president of Robotic Research. "Nothing before Pegasus has had the reach or versatility of this system. We look forward to sharing this with our customersin the U.S. military, as well as within commercial sectors and areas such as public works."
Pegasus can operate in areas where GPS is unavailable and can also function autonomously in both air or ground mode.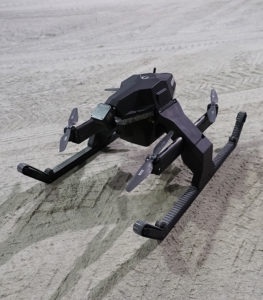 Pegasus is equipped with artificial intelligence that can perform obstacle avoidance and full 3-D mapping, said the firm. It is operated with a common controller built within the ATAK/Nett Warrior application. ATAK (Android Tactical Assault Kit) enables users to know where their team members are and supports situational awareness. The app was developed by the Air Force Research Laboratory (AFRL) and is based on an open-source virtual globe called WorldWind that was developed by NASA.
Pegasus was introduced atthe AUVSI Unmanned Systems —Defense, Protection, Security conference in Washington. USDPS brings together "military leadership, defense experts and the supply chain serving those markets to dig into how unmanned and autonomous systems are changing the landscape of military and intelligence operations and what that means for procurement, technology development and interagency collaboration, "AUVSI and Robotic Research said in a statement.
Read the full article on Inside Unmanned Systems
This post is also available in:

עברית (Hebrew)
Versatility can add important value to multi-mission unmanned systems. A first-of-its-kind hybrid UAS/UGV unveiled recently was defined as the first transformable robotic system — a whole new category of robots. The system reportedly delivers greater flexibility and performance to reconnaissance and combat operations, while creating a stronger shield for military forces.
The Pegasus platform's developer Robotic Research, a provider of autonomy and robotic technologies to federal and commercial customers, said Pegasus is equipped with artificial intelligence that can perform obstacle avoidance and full 3D mapping in any environment.
It is operated by a common controller built within the ATAK/Netwarrior application.
The robotic system was developed to address intelligence, surveillance and reconnaissance and chemical, biological, radiological, nuclear and high yield explosives missions.
According to the company website, the system's features include:
Autonomous operations in air or ground modes.
20 minutes of operation in flight mode or four hours in ground mode.
Supporting up to a two-pound payload (ISR and CBRNE payloads available).
Operating with or without GPS.
Ability to create a 3D map of its environment.
This is the first AI system capable of autonomously controlling ground and air mode capabilities.
Alberto Lacaze, president of Robotic Research said: "Nothing before Pegasus has had the reach or versatility of this system. We look forward to sharing this with our customers in the U.S. military, as well as within commercial sectors and areas such as public works."
Read the full article on i-HLS