DC Inno: D.C. companies, makers shift to PPE production amid shortage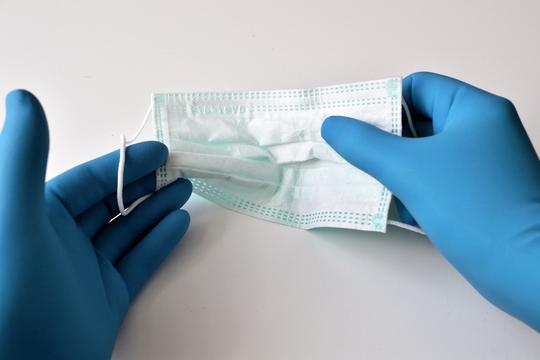 ---
Among the many challenges posed by the COVID-19 pandemic, the shortage of personal protective equipment for people on the front lines is one of the most dire. Across the country, hospitals are struggling to supply their staff, who come in direct contact with coronavirus patients, with crucial PPE, like N95 masks, face shields, gowns and gloves.
According to a survey conducted in early April by the advocacy group GetUsPPE.org, most medical facilities had less than a two week supply of these critical items.
A number of D.C.-area companies and groups have stepped up to alleviate the PPE shortages by making their own equipment. In some cases, these efforts have arisen from companies working entirely outside their usual scope – a ping pong equipment company and a framing startup probably never thought they'd be making gear to help fight a pandemic.
Here's a look at some of those in D.C. who have taken up efforts to fill in the PPE gaps.
Robotic Research
Robotic Research, a Clarksburg, Md. company that designs autonomous systems for the commercial and defense sectors, has been using its facilities to 3D-print face shields for distribution to hospitals in the Montgomery County area.
"Our team wanted to help out in any way we could to support the local frontline health care providers who are working around the clock to assist those impacted by the COVID-19 public health crisis," Alberto Lacaze, president of Robotic Research, said in a statement.
Robotic Research's design is a modified version of a blueprint provided by the National Institutes of Health. Lacaze says the shields are modified for comfort, to be easily cleaned for reuse and to allow for enhanced protection in the temple area. The company says it has made more than 100 masks so far and plans to ramp up production.
In addition to making the face shields, Robotic Research is publicly releasing for one year its patented 3D printing process, which it says sterilizes and packages the printed material, "eliminating the need for hospitals to resterilize equipment before use." The process can be applied to making face shields as well as other medical equipment.
Framebridge
D.C.-based custom framing startup Framebridge figured that some of its materials could be used to help alleviate the shortage of PPE for frontline workers. The company has been using the acrylic that it normally uses on the front of frames to make face shields, according to its blog.
At its factory in Lexington, Ky., the company has been churning out face shields consisting of a "halo" that wraps around the wearer's head and a shield that snaps into place. The shield can be cleaned or replaced.
The company has been selling the items at cost for $4.50, and the frontal shield component can be replaced for 80 cents. According to Washingtonian, Framebridge began fielding orders by word of mouth, but eventually got an order for 30,000 face shields from the state of Kentucky.
Xometry
Xometry, a Gaithersburg, Md.-based on-demand manufacturing company, has a network of about 4,000 factories that can custom-make designs submitted by customers. To that end, the company is trying to make it easier for customers to submit requests for custom-made medical equipment and PPE.
Xometry has a dedicated form on its website for manufacturing requests for items being used to battle COVID-19.
"Many of these devices (or parts for them) can be 3D printed, molded or machined. With a network of over 4,000 manufacturing facilities around the world, Xometry stands ready to help make the supplies that are so desperately needed," the company says on its website.
As a more specific offering, Xometry has been manufacturing an "origami" face shield – a piece of PPE that the wearer can assemble in a minute by folding and combining a plastic shield with a strap. The face shields cost between $1.29 and $2.49 per unit, depending on how many are purchased.
Sports Squad
Rockville, Md.-based Sports Squad is most known for its table tennis equipment brand JOOLA. In a move that only makes sense in these bizarre times, the sporting goods company spun up a new brand called JOOLA Medical in order to make single-use, protective face masks.
Leveraging its manufacturing connections in China, the company claims it has delivered more than half a million masks to medical workers. The masks, which are intended for low-exposure situations, are sold as a 6-month supply of 200 masks for $129 or a 12-month supply of 400 masks for $239.
Sports Squad President Richard Lee says that JOOLA Medical came about because his sister, a medical doctor, suggested that the company use its resources to produce PPE.
George Washington University
At George Washington University, a collection of students and faculty from across departments have banded together to make various forms of PPE, mostly to serve staff at GW Hospital.
According to GW Today, James Huckenpahler, an instructor at the Corcoran School of Art and Design, oversaw an effort to use a 3D printing farm at the school to make 200 face shields for hospital staff. The shields are a modified version of the National Institutes of Health model, designed to let the plastic shield be replaced and reused. Konstantin Mitic, a graduate biomedical engineering student, also plans to use the GW Innovation Center's 3D printers to make respirators comparable to the much sought-after N95 respirators, according to GW Today.
Additionally, a group of students and faculty at the university's School of Engineering and Applied Sciences are working on a kiosk meant to automate the screening process for staff entering the hospital, according to GW Today. Staff have to be screened about recent travel symptoms before entering. The automated kiosk is meant to reduce the number of in-person screenings that risk spreading the virus.
Read the article on DC Inno